Welcome!
As a writer, being noticed can be hard. Believe me, it's very frustrating. So, in an attempt at gaining readers, I've started posting some of my older material online. You'll see how my writing has evolved over the years, from something I'd prefer not to think about to something rather more readable. Well, IMHO at least.
Come on in, have a read. And if you like what you read, why not tell me about it? Chat about it on my Discussion Forum. Or you can check out my blog and see my new ideas and background material. Or my Articles page. And join the Mailing List for updates!
All welcome! Come and join the fun. And find me on Facebook!

Updates:
15/07/2015
UP NOW - Trial By Fire (Schooled In Magic VII)! Read a Free Sample, then download it from the links on this page! Talk about it on the Discussion Forum!

13/07/2015
Coming Soon!
05/07/2015
NEW Discussion Forum! Check it out!
25/06/2015
NEW - The Empire's Corps XI: First To Fight! Read a FREE SAMPLE, then purchase the book from Amazon HERE. And read the Afterword HERE!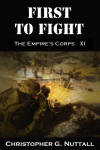 09/06/2015
NEW - Kindle Services Recomendation List!
08/05/2015
Coming Soon - The Oncoming Storm (Angel In The Whirlwind I)
08/04/2015
UP NOW - A Savage War Of Peace (Ark Royal V) - download a free sample, then purchase the complete text from Amazon here!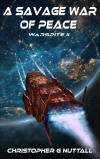 17/03/2015
Up Now - Love's Labor's Won - Schooled in Magic VI! Read a free sample, then download the complete text from the links on this page!